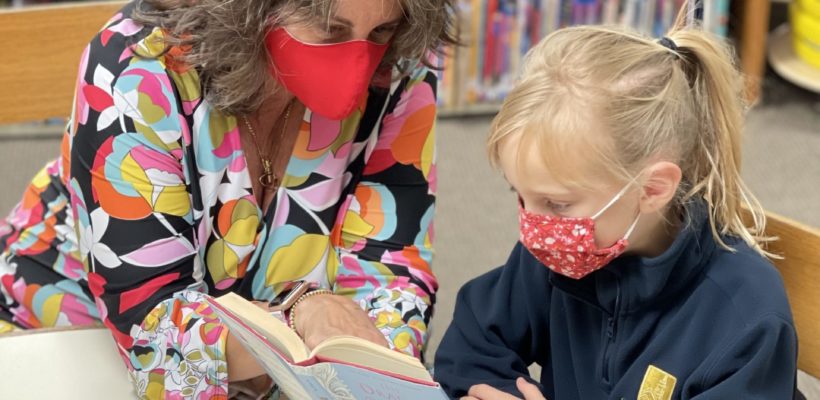 Media Center
The Media Center serves as the heart of Good Shepherd School and students are encouraged to make use of its resources before, during and after school hours. It provides an environment that encourages reading for pleasure, researching for information, and interacting with text and technology. The Media Center exists to fully support the school's curriculum in all subject areas. Students are taught how to locate, process and communicate information in both print and online.  Our Media Center houses over 8000 books, periodicals, and other forms of written works.
From learning to read to reading to learn, our Media Center environment encourages both academic and recreational reading. Special events are held throughout the school year such as: Scholastic Book Fairs, "Donuts for Dad", "Muffins for Mom", "Pastries for Parents", Santa read-alongs, Pajama Days and a host of other happenings that link reading to joyful and happy experiences.
STEAM Lab  (Science, Technology, Engineering, Arts,  and Mathematics)
The new Science and STEM Lab is an exciting place for research and scientific inquiry. The aesthetics of the room tells the students that they are in a special place. Artistically designed with a canopy of trees and hanging leaves, students can view the beauty of science at its best, with acoustic tiles artistically camouflaged in the design of the room. And it doesn't stop there! The room opens up to an outdoor classroom, allowing nature to be an integral part of the daily curriculum. Here students enjoy the benefits of surrounding natural wildlife areas.
Each unit of study focuses on one of the four disciplines of biology, chemistry, physics or environmental science. STEAM activities are hands-on and taught to spiral from one grade to the next, designed to be age-appropriate and encompass mathematical and artistic skills developed in the classroom. Science equipment and activities pique the creativity and problem solving abilities of the students.
Chapel Service
As an Episcopal School, we actively involve our students in a weekly Chapel Service. Students participate in the service with each grade level responsible for directing portions of the readings and ceremonious portions. Chapel is a time of worship where we honor God, share our gifts, and gather together as a community.
Our religion classes support our Chapel Service and provide a safe place to ask questions while learning about Jesus our Savior. Students experience a variety of stories of faith as well as the principles of core Christian values. Weekly readings align with the Episcopal Church calendar, and include a Bible verse and story that is read from an age-appropriate Bible. This presents the opportunity for our students to weave God's messages into their daily lives and develop a life-long spiritual relationship with God.
Community Service
Our community service program fosters leadership among our students.  We promote positive working relationships with many service organizations, such as the Outreach Ministry of Good Shepherd Church.
Since the needs of the community and county vary each year, events and happenings change to address these needs. Last year, students gleaned 2000 pounds of peppers from farmlands, providing vegetables for hundreds of needy families. They also packed and shipped 75,168 dried meals for families in Haiti. In addition to these large undertakings, we have ongoing work in the Church's food pantry and collections for Thanksgiving, Christmas, and Back to School supplies for our sister school in Indiantown. We embrace the motto "many hands make for light work"  and actively involve students in missionary type work that inspires them to continue this Christian virtue throughout their lives.
General Assemblies
School Assemblies are held each month featuring a monthly virtue, celebrating birthdays, and recognizing individuals and groups for their accomplishments. Each month a different grade level performs. We often invite guest speakers to help foster an atmosphere of appreciation for the diversity of traditions, cultures, and interests in our community. These assemblies are student led by the fifth graders and nourishes in them leadership and presentation skills, in addition to improving their writing skills for media and marketing purposes.
Academic Support
To best serve the needs of all our students, Good Shepherd provides academic support in both reading and math. This support may be in the form of individual or group settings, and may include tools for either gifted, accelerated or remedial instruction.
Wilson Reading System – The Wilson Reading System is a research-based reading and writing program. It is a complete curriculum for teaching decoding and encoding, beginning with phoneme segmentation. WRS directly teaches the structure of words in the English language so that students master the coding system for reading and spelling. The Wilson Method establishes a process for students to spell words by breaking them into parts (sounds, syllables, suffixes) as opposed to memorizing a list of specific words each week.
Fountas and Pinnell Leveled Literacy Intervention (LLI) – LLI provides individual and small group support in addition to the regular reading instruction in the classroom. LLI is a short term intervention that provides thirty minute lessons of highly concentrated instruction in reading, writing, and phonics.
Linda Mood Bell Visualizing and Verbalizing – The Visualizing and Verbalizing program helps students develop concept imagery, the ability to create an image from language as a basis for comprehension and higher order thinking. The development of concept imagery improves reading and listening comprehension, memory, oral vocabulary, critical thinking, and writing.
Lively Letters – Lively Letters is a multisensory program that improves letter sound knowledge, phonemic awareness, and the phonics necessary for reading and spelling.
Sight Words You Can See – Sight Words You Can See is a multisensory program that teaches the most difficult sight words, those that are phonetically irregular. The program utilizes imagery, humorous stories, and mnemonics to train decoding of the tricky sight words that do not follow the rules of phonics.
Ten Marks Math – Ten Marks Math is an online integrated math program that provides practice, instruction, intervention, assessments, and differentiation.