Media and Library Resources
The Media Center's goal is to fully support the school's curriculum in all subject areas.  Although classes are scheduled twice a week, students are encouraged to make use of the resources before, during and after school hours.
The Media Center provides an environment that encourages reading for pleasure, researching for information, and interacting with text and technology.  We teach students how to locate, process and communicate information in both print and electronic sources.  Our Media Center houses over 7900 books, periodicals and other resources.
Class time is divided into instruction, reading, and exploration.  Our Media Specialist stimulates recreational reading with programs like Accelerated Reader, semi-annual book fairs, and the Million Word Wall.
Technology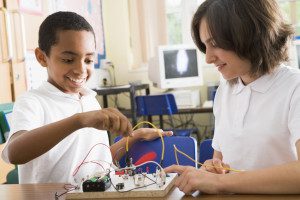 Laptops, iPads, Desktops, and Smartboards are used as fully integrated tools in each of our classrooms.  From Preschool phonics games, to a virtual tour of an international museum, evidence of digital literacy is everywhere.
Technology curriculum includes operating systems, Microsoft Office, Google Docs, graphic design, research and movie and video production.  Preschool and Kindergarten students learn while having fun playing games.  We focus on hand-eye coordination, problem solving and reading and math readiness.  Our older students find these processing and publishing tools can also enhance and facilitate their projects and presentations.
Physical Education
Everyone looks forward to our annual Field Day! But on a daily basis what are we doing in PE?
PE includes activities that are age-appropriate and specific to proficiency in gross motor movement, athletic skills and the promotion of a physically active lifestyle.  Students are taught the importance of Physical Education as individuals and as members of a team.  Instruction covers fundamental skills, rules, safety, and strategy pertaining to a wide variety of sports.  We encourage children to develop their skills and believe everyone can achieve success regardless of size, maturity or coordination.
Fitness, self-discipline and responsible behavior are stressed in all areas of our physical education program.  Specific drills are practiced involving hand-eye coordination and visual perception.
Our program is complemented by many after school activities, like Intramurals, Running Club, Soccer, Golf and Dance – as well as daily recess for all grades.
Science and Outdoor Education
With a wide variety of resources on- and off-campus, students engage in the scientific process of inquiry, investigation and analysis.
Students enjoy the benefits of an outdoor classroom, garden area, and the surrounding natural wildlife areas.  With each new unit of study a different topic is studied with support and enrichment.  Science curriculum is supplemented by weekly hands-on time in our Science Lab, as well as weekly STREAM activities to enhance students' critical thinking skills.
Faith, Values and Giving Back
We encourage students to develop a life-long spiritual relationship with God.  Good Shepherd offers a safe place to ask questions and learn about God, ethics and traditions.  Students experience a variety of stories of faith as well as the principles of character development.
As an Episcopal school, students participate in weekly chapel.  Chapel is a time of worship where we honor God, share our gifts, and gather together as a community.  The Faith Weaver curriculum presents readings and lessons that align with the Episcopal Church calendar, and include a Bible verse and story.  It presents an opportunity for children to weave God's messages into their daily lives.
General Assemblies:  In addition, General Assemblies are held each month featuring a monthly virtue, and celebrating birthdays and individual accomplishments.  It is an occasion to have guest speakers and foster an atmosphere of appreciation for the diversity in traditions, cultures, and interests of our families.
Community Service:  Our community service program fosters leadership among our students and staff.  We promote positive working relationships with many service organizations and cherish the fact that "many hands make for light work."  Look for our "Wishing Well" on Wednesdays and help us collect items for other local organizations in need.
Green School of Excellence:
Good Shepherd School received recognition as a Green School of Excellence" in the 2016 Green Schools of Recognition Program. The goal of this program is to recognize private and public schools that have made efforts to create a culture of sustainability within their school environments. This program awards K-12 schools that have made strides in school grounds enhancement encouraging outdoor education, school sustainability, environmental curriculum integration, community involvement, and administrative support embracing sustainable practices.